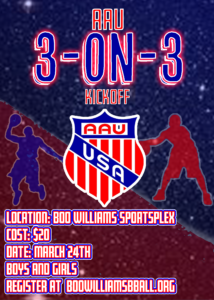 The following documents are REQUIRED or each athlete for ALL District (State) Tournaments.
1. AAU Membership Card – JOIN AAU NOW
2. Copy of current Report Card
3. ONE of the following: Walker ID/Child ID OR Passport OR Military ID or Driver's/Learner's Permit – Birth Certificates will  NOT be accepted.
Due to the mandatory AAU Background check policy; all bench personnel will be required to show a government issued ID at check-in to receive their complimentary tournament entry pass. Passport, Military ID, Driver's License or other accepted forms.
Girls Basketball District Sport Director –Monite McMorris – 540-455-6771
Basketball Administrative Chairperson – Jeremy T. Bullock – 540-408-3789
AAU Girl's Basketball National Website
John Hodges Virginia AAU Basketball Scholarship Application